Sho
/ 2nd east
This room overlooks a forest of red pines, the origin of the name of our hotel ("sho" means pine).
The kakekomi ceilings, sloped with exposed rafters made with small Kitayama cedar logs, and ajiro ceilings, wickerwork made of red cedar, create an atmosphere that is sophisticated yet not overly formal. Furniture featuring traditional yet creative shapes from Giorgetti, an Italian company founded in 1898, is paired with Nishijin-ori cushions and a chestnut-colored rug inspired by the red pine alcove pillars. Spend an extraordinary, once-in-a-lifetime moment in the round yew plum pine tub.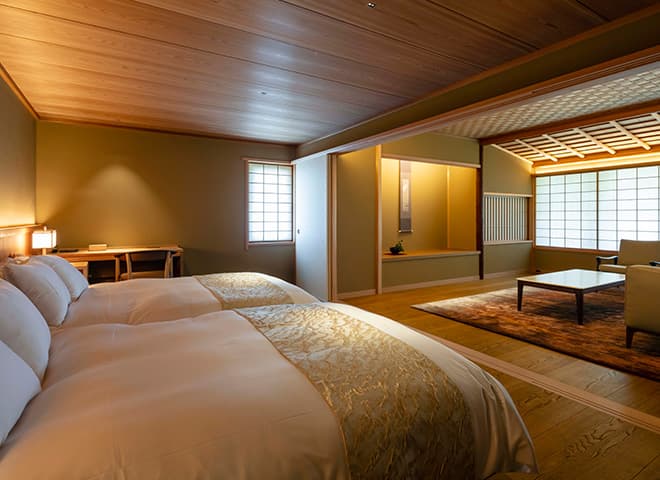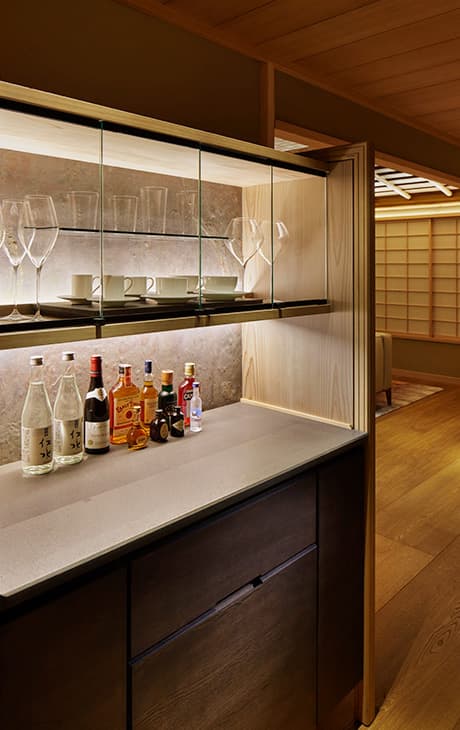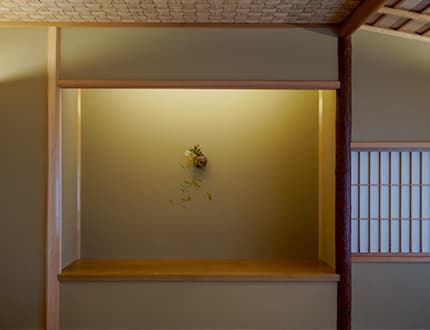 Information
Check-In & Check-Out
Check-in: 3:00 am /
Check-out:12:00 pm
Late check-out is available depending on room vacancies.
Please contact reception if you wish to check out late.
We accept cash and credit (Visa, MasterCard, JCB, American Express, Diners Club).
Amenities
La Soie, Original Amenities from Shinsho-an

We offer original amenities from Shinsho-an that are both environmentally-friendly and people-friendly. Amenities are provided in 100 ml bottles so that you can continue using them rather than dispose of them after a single use. Take them as you please.

Room Wear

Original room wear from Shinsho-an that you can wear around the hotel is available in guest rooms.
*Please refrain from wearing room wear to Higashiyama Ogata.

ITRIM Skincare Brand

For our base cosmetics, we provide ITRIM, a luxury skincare brand made from traditionally effective botanicals and natural ingredients used since antiquity that have been transformed into a skincare line.
We also offer a variety of amenities in guest rooms to make your stay more comfortable.
Facilities
Electronics
All rooms are equipped with a television, Bang & Olufsen Bluetooth audio, wired tablet, and free internet connection (Wi-Fi).
Television/movies
The televisions in the guest room are installed with Netflix, YouTube, and other applications. You can install Netflix and YouTube on your smartphone or other device and view through casting, using your smartphone as a remote control.
Account information and viewing history is erased when the power is turned off.
Hotel air conditioning and measures to prevent the spread of infectious disease
There is no central air conditioning in the hotel, but individual air conditioning in each guest room, which encourages smoother ventilation.
Total heat exchanger ventilation fans are installed in each guest room, designed to ventilate rooms 24 hours a day while minimizing temperature fluctuations.
The ventilation device itself is equipped with a humidifier to maintain constant humidity inside the guest room. All windows in the guest rooms can be opened and closed.
Services available during your stay
・Room service

・Rental items

・LG Styler for steam disinfection

・Turndown service

・Transportation arrangements

・Luggage storage

・Laundry(please contact us)